Pistachio Cupcake
Treat yourself to a delicious Pistachio Cupcake! These cupcakes are packed with nutty goodness and topped with a drizzly green icing. Sprinkle with edible glitter and chopped pistachios for a truly magical treat. Perfect for any occasion! #pistachiocupcake #baking #cupcake #treats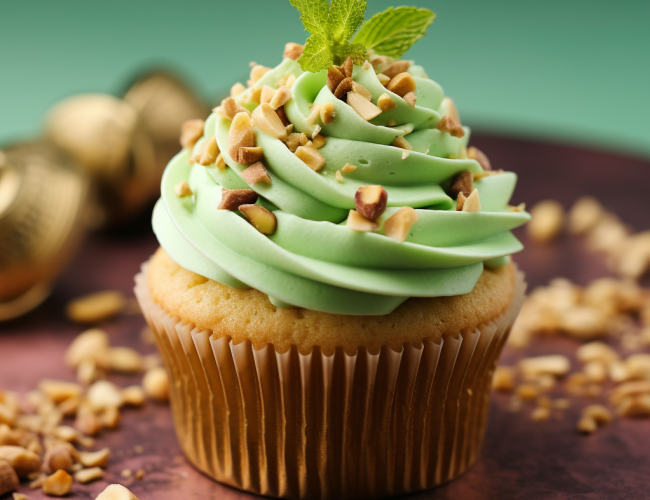 Ah, Pistachio Cupcakes. My favorite. Not only do they look stunning with their pearly green icing and shimmery edible glitter, they also taste amazing!
These cupcakes use crushed pistachios, along with soft butter, golden caster sugar, self raising flour, eggs and just a dash of milk, creating a light, fluffy spongy texture which you won't be able to get enough of. The icing is super simple; just icing sugar sifted with a drop of food colouring, and a few tablespoons of water to make it just the right consistency and give it a beautiful light, mint green shade. You can even decorate them with chopped nuts and some edible glitter for a touch of extra dazzle.
With a prep time of just 25 minutes, and being really easy to make, these Pistachio Cupcakes would be perfect for any celebration, or just because you want a sweet treat! I promise, you won't be able to say no to one of these Pistachio Cupcakes - they are too good to resist!
Why You'll Love This Pistachio Cupcake Recipe
These are all the reasons I'm loving this Pistachio Cupcake recipe:
It's vegan-friendly: Perfect for those who are trying to avoid animal products in their diet, this pistachio cupcake recipe is sure to please everyone. The simple swaps make it a delicious vegan treat without compromising taste or texture.
It's sure to wow: With its pale green hue, this cupcake recipe makes for an eye-catching treat. Finished with chopped pistachios and edible glitter, it's sure to impress even the pickiest of dessert critics!
It's easy to make: Not much baking experience is needed to make this cupcake recipe—you just need to assemble and stir together the ingredients! The recipe is also simple enough for the whole family to get involved in the baking.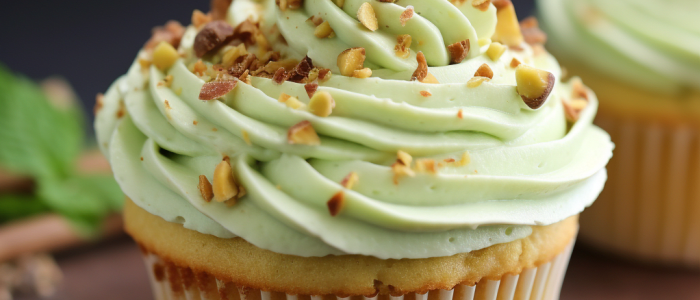 Pistachio Cupcake
Treat yourself to a delicious Pistachio Cupcake! These cupcakes are packed with nutty goodness and topped with a drizzly green icing. Sprinkle with edible glitter and chopped pistachios for a truly magical treat. Perfect for any occasion! #pistachiocupcake #baking #cupcake #treats
Ingredients
100g pistachios
140g golden caster sugar
140g butter, very soft
2 eggs
140g self-raising flour
5 tbsp milk
edible glitter, to decorate
For the icing
250g icing sugar, sifted
mint green food colouring
Instructions
Step 1: Pre-heat the oven to 160C/140C fan/gas 3 and line a 12-hole muffin tin with muffin cases. Place 85g of pistachios into a food processor with roughly half of the sugar, then process until the pistachios are finely chopped. Transfer the chopped pistachios into a large mixing bowl along with the rest of the sugar, butter, eggs, flour and milk and stir until the mixture is fully combined. Evenly divide the mixture between the cases and bake on a low shelf for 22-25 minutes until a skewer inserted into the muffins comes out clean. Leave the muffins to cool on a wire cooling rack.
Step 2: Gradually add water to the icing sugar, a tablespoon at a time, until it's thick and can be drizzled - don't add too much water! Incorporate enough food dye to get a pale green hue. If certain cakes rise above the cupcake cases, gently trim the excess with a knife or remove it with a teaspoon - do this carefully so you don't disrupt the edges. Spread a generous dollop of icing on every cake, and finish them off with chopped pistachios and a sprinkle of edible glitter. Once the icing has set, serve the cupcakes.
Sugar: 36g; Saturated Fat: 7g; Fat: 16g; Carbohydrate: 45g; Sodium: 0.34mg; Protein: 4g; Fiber: nullg; Calories: 326kcal;