Chocolate Cherry Cookies
These Chocolate Cherry Cookies are just the sweet treat you need to finish off any day! Deliciously soft and chewy, with bursts of dark and white chocolate and cherries in every bite. They'll be gone in a flash - so make sure you get your share! #bakehappy #cookiesofinstagram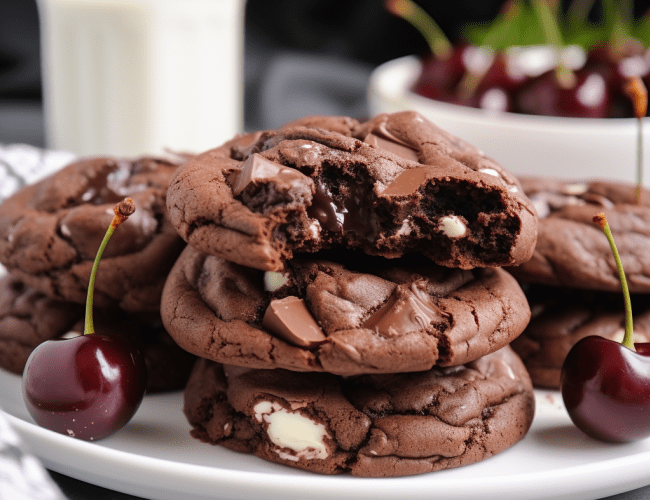 Chocolate Cherry Cookies – nothing screams 'treat' like this delicious combination! A classic favorite of mine, I remember how much of a treat it was to get these cookies as a kid after school - it was the ultimate reward! Now, I'm thrilled to share this recipe with you so you can have your own little taste of heaven.
These Chocolate Cherry Cookies are scrumptious and so so easy to make. From sweet cherries to rich chocolates, the flavors combine for a divine explosion of flavor in every bite. Along with the perfect crunch of the cookies, you won't be able to resist! So satisfy your sweet tooth and make up a batch of this timeless treat for yourself and your family - you won't regret it!
Why You'll Love This Chocolate Cherry Cookies Recipe
These are all the reasons I'm loving this Chocolate Cherry Cookies recipe:
The flavor combination is unbeatable! The sweet, crunchy cherry pieces paired with the luxurious richness of the dark and white chocolate make these chocolate cherry cookies truly irresistible.
They're vegan-friendly! Not a lot of cookie recipes are vegan-friendly, but these chocolate cherry cookies can easily be made with a few simple swaps!
They're easy and quick to make! With a prep time of 15 minutes and a cook time of 14 minutes, these chocolate cherry cookies are the perfect treat when you're short on time but don't want to compromise on flavor.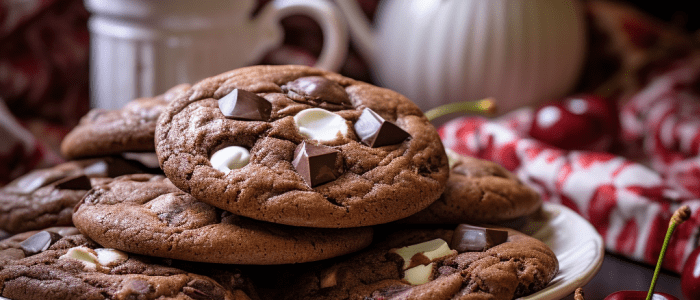 Chocolate Cherry Cookies
These Chocolate Cherry Cookies are just the sweet treat you need to finish off any day! Deliciously soft and chewy, with bursts of dark and white chocolate and cherries in every bite. They'll be gone in a flash - so make sure you get your share! #bakehappy #cookiesofinstagram
Ingredients
200g unsalted butter, at room temperature
85g light muscovado sugar
85g golden caster sugar
1 egg
225g self-raising flour
50g plain chocolate, 50-70% cocoa, roughly chopped
50g white chocolate, roughly chopped
85g natural colour glacé cherry, roughly chopped
Instructions
Step 1: Preheat the oven to 190C/fan 170C/gas 5. In a mixing bowl, combine the butter, 'sugars' and egg and beat until blended. Then, add the flour, chocolates and cherry pieces as well as the salt and mix until evenly distributed. Scoop out 20 large, rough balls and spread them apart onto a non-stick baking sheet. Note that the cookies will spread as they bake. This cookie dough can also be frozen.
Step 2: Cook in the oven for 12-14 minutes until just lightly browned on the outside but still slightly soft in the center. If starting from frozen, leave in the oven a bit longer. Leave on the baking sheet for 5 minutes before transferring to a cooling rack with a spatula and allowing to cool completely.
Protein: 2g; Calories: 186kcal; Carbohydrate: 23g; Sodium: 0.13mg; Fiber: 1g; Fat: 11g; Saturated Fat: 6g; Sugar: 14g;